Wednesday, November 9, 2016 / by Jessica Salazar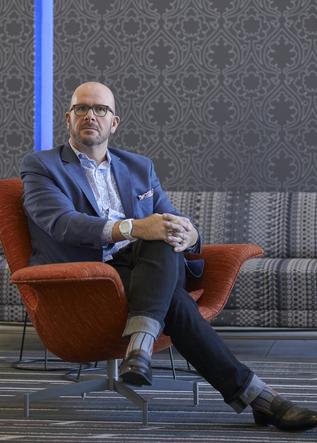 A Utah based designer and owner of Brooks Design Associates, a firm specializing
both residential-commercial interior design and both set-costume design for theatre.
Brooks is an associate professor of interior design at Utah State University located in Northern Utah. Before joining the faculty at USU, he owned a high-end residential design firm in Greenwich, Connecticut. His research at Utah State identifies branding strategies relating to the décor changes in the Oval Office from 1934 to the present. He has received numerous awards for his work, including set and costume designs being displayed at the Kennedy Center in Washington, D.C. In addition, his work has appeared in various magazines and journals as Bedroom and Bath, Journal
of Interior Design,Sources and Design, Southern Accents, Vermont, and Greenwich magazines. Brooks' signature trademark is his attention to detail. His designs explore a wide
range of repertoire from stark minimalism to lavish grandeur. His diversity in designing elegant spas, puppets, lavish sets or evening gowns demonstrates his ability to meet each design challenge with diversity and experience. Darrin Brooks
is a professional member of the American Society of Interior Designers [ASID] and the International Interior Design Association [IIDA]
and is NCIDQ Certified.
http://www.brooksdesignassociates.net/contact-1.html